We are Blue Dragon Tours
nice to meet you!
About Blue Dragon Tours
1. We are Blue Dragon Tours
Starting in 2008 as a professional and leading travel agency in Vietnam, Blue Dragon Tours offers various travel services to meet with an increasingly dynamic tourism market. We love the idea of sharing experience and giving advice on picking the best accommodation for your holiday. As a result, we created Vietnamresorts.com as a reliable online resort reservation system with optimal accommodation options.

2. Our Mission
Our goal is to offer the best Vietnam resort booking service to all travelers: locally and internationally.
Our years of experience promise you a stay to remember. Our passion for traveling will create many fond memories for you, from planning your holiday to making it a dream one.
3. The Value We Create
Share and create the most authentic travel experience for our customers
Online and offline support before, during and after your holiday
Friendly and experienced staff that can communicate in English, Vietnamese and Korean
Strong commitment to preserve environmental and cultural value of the destinations we work on
4. How We Differentiate
Over a decade, Blue Dragon Tours has been offering wonderful city breaks and short vacations to Vietnam's best resorts.
We are also a specialist in creating a wide range of tailor-made holidays with the most competitive price. We are proud to be a partner of many brand-name resorts such as Vinpearl Resorts & Villas, Melia Hotel & Resorts, Novotel, and Fusion Resort. We love the landscape and the culture of all places we deliver tours to; and we do our best to ensure you will feel the same way while traveling with us.
5. Our Partner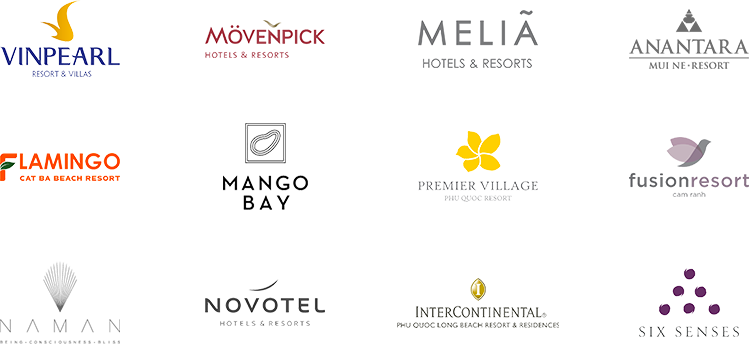 6. Our Achievements

International Tour Operator License
Certificate of Excellence - awarded by Trip Advisor (View)
Pacific Asia Travel Association (PATA): 7375
7. Contact Information
BLUE DRAGON TOURS COMPANY LIMITED
Business Registration Number: 0105808203.
Regiatration date: 01/03/2012.
Address: 3rd Floor, 72 Hang Trong, Hoan Kiem, Hanoi
Hotline: +84-946 505 505
Email: booking@vietnamresorts.com
Website: www.bluedragontours.com / www.vietnamresorts.com